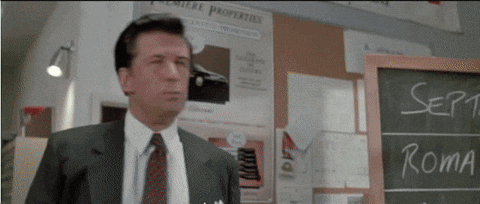 Beyond the challenge of actually building a website (it's really easy these days), the biggest hangup I see by far is writing the content. And I get it — writing is hard. But unlike the magic that goes into web design or development, writing is something you've been doing since grade school. Nearly everyone can write. You can write.
I don't want this to be a writing lesson though. Instead, what most people need is a better way to think about how people consume content on the web. And I'll get to the point — most people start here:
What do I need to say to get people to like me?
When they should start here:
What, exactly, are people supposed to do here?
To clarify what that means, let's pretend you're a financial planner looking to start a website. Instead of diving in with the equivalent of a LinkedIn profile (I see this all too often), what you should be doing is creating a pathway for people to go from random visitor to customer.
Step one, before you put a single word on a page, is to identify the action you want people to take. Is your goal to have people call you? Email you? Register for something? Sign up for a newsletter?
Once you've identified that desired action, step two is to think of yourself as a customer. What sorts of information would you need to get you to perform that action in a single page? A long bio and some boring supporting content wouldn't sell you, would it? There are a million financial planners out there, all generally offering the same thing — what you need is for your specific problem to be identified and solved. Or even better, what you need is for a problem to be identified for you, with a solution in plain view.
Headline: Saving for retirement is great, but that IRA isn't going to buy you a beach house.
Subhead: I believe in retirements with a view.
Button: Call me.
See, any financial planner will help you plan for retirement, but a statement like that makes something mostly-automated like an IRA seem inadequate… because who doesn't want to retire with a beach house? We've all see the beachfront property show on HGTV. We know it's not out of reach — we just need some help. And that's where you come in. Using X, Y, Z, you can get anyone a beach house. But you have to start saving now. Like, today. Call me.
Get it?
If you want something tangible to look at, I think Wealthfront nails it. Here's their homepage:
Headline: Live the life you want. We've got your back.
Copy: Imagine being confident about the financial decisions you make. Sounds crazy, we know.
Then they have a brilliantly laid out section further down (the entire page is made of easily digestible content — no long paragraphs or endless lists):
Headline: Our investment strategies may be sophisticated, but our philosophy is simple.
Bucket 1: reduce risk - We'll build you a diversified portfolio that aims to maximize returns without taking you out of your risk comfort zone. And our software automatically maintains the right level of diversification for you.
Bucket 2: reduce taxes - We built tax intelligence into our software to help lower the taxes you pay, so you'll have more money to invest.
Bucker 3: reduce fees - We don't let higher fees eat away at your long-term returns. Our fees are simple and low, and our goal is to keep offering more value without raising costs.
But what's best about Wealthfront's website is that nearly every page ends with a call to action (CTA). And they do it so effortlessly:
Headline: It all sounds very sophisticated, because it is. But for you, it's effortless.
Subhead: Wealthfront is complexity, simplified.
Button: Put us to work
Their secret sauce — aside from having a good content team — is that they know exactly what they want people to do.
So if step two in this content writing process was to quickly define the reason for your existence, step three is to reinforce it. If you help people save for college, what makes you unique? Why should they put their trust in you? Buying a house? What makes you so special? Obviously, your primary focus should live on your homepage, but don't be afraid to create individual pages to reinforce more specific funnels. And always remember that each of these pages should be able to stand on its own. That means each page needs to:
Be concise - Get to the point, and be compelling.
Deliver the goods - If someone gets to the bottom of the page without a clear view of what makes you special, they're probably not going to convert.
Have a CTA - Convert, convert, convert. If someone gets to the bottom of a page and doesn't know what the next step is, you've failed. (And by next step, I mean the next step in the sales funnel — coffee is for closers.)
Assuming you've clearly carved out your place in the world, all you have to do now is fill in the gaps. Do you feel like some potential clients will need content on your methodology? Make a page for that, but understand that most people aren't going to dig that deep. If you have a secondary site navigation, put it there. Same with a blog or a newsletter — if your brand would benefit from "thought leadership" and you're committed to maintaining a regular stream of content, go for it.
The most important thing is to nail the basics though. Don't forget the basics:
Identify the action you want customers to take.
Quickly define the reason for your existence, then ask people to perform that action.
Reinforce your offering. If people don't know you offer a service or do something unique, it's like a tree falling in a forest. No one will hear about it.