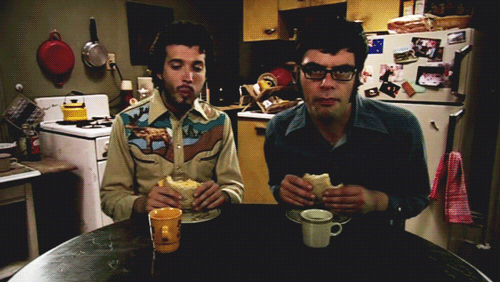 Chris was pretty much spot on regarding what remote work is like. Really, any workplace takes adjustment: your kitchen table or a cube farm or (ugh) open concept office.
However, further recommendations for working remotely (or at home)…
Regular lunch buddies are great. Gets you out of the house, good food, tasty beers, and a chance to talk about… anything, really. (Going too heavy on the food or beers will want to make you sleep all afternoon, so be careful.)
Coffee was covered, but some of us in Commonwealth countries drink a lot of tea, too. I am not a fan of the one-cup-at-a-time method, but have used one of these steeper/filters for years and love it. Fits pretty much any pot, too.
Brewed loose tea tastes better. Keep a variety on hand (with caffeine and without), but I recommend buying in small quantities to keep it fresh. Old tea tastes like dust. I fell in love with this lime green tea in New Zealand. And while I've tried many flavoured black teas, this raspberry one is one of few that doesn't taste like old gum to me.
Good mugs are also more satisfying for soup than bowls are. I am a fan of hitting up potters' sales to support local artists and get unique and funky designs.
If you're not into drinking a lot of water, trying it "spa" style like they have at Google with citrus, cucumber, basil, mint, etc. might appeal more.
I'm a fan of adjustable (sit/stand) desks. I know people with super fancy ones, but I've had my IKEA one about four years and it's been great. Reasonable price, sturdy, and it was nice being able to customize the top.
If you're standing, get a good anti-fatigue mat. Mine's a pretty basic Costco number, typically used in kitchens. Friend of mine looked into one of these, but I suspect I'd hurt myself with something like that.
Your back will thank you for having a decent chair when you start getting old. Decent doesn't have to mean some $1000 spaceship. Just solid support, sturdy build, fits your body size/shape. (Also, a rolling office chair is super handy for getting around at home if you break your ankle…)
I don't bother with weights, but am well indoctrinated in "10-10-10" from years of krav maga training. 10 push-ups, 10 sit-ups, 10 squats. Do them however is safe for you. Repeat hourly or as needed and sculpt that desk jockey physique!
Get a dog! (Cats do not help with fitness.) Dogs need to go out. Taking my dog to run around in the country is an excellent break in my afternoon, gets us both fresh air and Vitamin D, and I do most of my best thinking or head clearing then.
If you don't like dogs or can't have one, then just walk yourself. Explore a new part of your neighbourhood, walk to a coffee shop farther away, head out of the city if it's not too far, or just wander around the block. Even 15 minutes of perambulation will do you good.